Marie P. Knecht
Los Angeles Certified Older Adult & Senior Fitness Professional
I have been involved with fitness since the early eighties when my good friend and mentor Richard Simmons inspired me to become a group exercise instructor and personal trainer.
Here are some kind words Richard chose to share about our work together and our friendship.
I have known Marie for over three decades. She began as a student of mine at my exercise studio, SLIMMONS. I would watch Marie as she worked out. And after class she would always thank me and tell me that one day she was going to be a teacher.

Not only is Marie a teacher, but a great teacher! She loves people unconditionally and tries her best to make every one of her students feel special.........and healthy. If you are a student of Marie's you are a lucky person. There is no one better.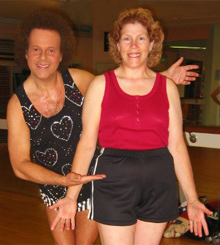 Training Older Adults & Seniors For Over Seventeen Years
What I have learned from my parents, my father died of heart disease and my mother had a ministroke that left her with a serious balance problem. As a result, I feel if you don't look after your body, your body won't look after you. When I exercised with my mom to improve her balance, strength and flexibility she would say, "The best part of exercising is that it helps me get around better."
It has made me acutely aware that older adults and seniors need to exercise. They tend to neglect themselves and don't do what's possible to prevent many potentially serious, health-related problems.
My goal in life is to help make the lives of older adults and seniors, or anyone else that needs me, as healthy, pain-free and productive as possible.
Committed To Your Success
My job as a fitness professional, is to serve as your health and lifestyle coach. I am motivated and creative enough to train anyone – at any fitness level – that is willing to change. I am dedicated to helping each and every client capture his or her fitness goals through proper training and form.
Training Specialties
Balance Training
Corrective Exercise
Flexibility/Stretching
Functional/Core Training
Group Exercise Instructor
Mat Stretching/Core Exercise
Strength Training
Water Aerobic Exercise
Training & Exercise Certifications
---
It's Never Too Late To Get In Shape!
Let's Get Connected Today!